By kate on January 29th, 2014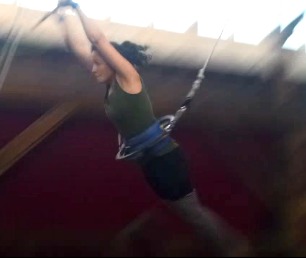 Since the summer of 2012, I've been taking regular flying trapeze classes at Emerald City Trapeze. I love it, and am currently close to mastering the cutaway half. In my year and a half as a trapeze student, I've picked up little tips and tricks along the way that I wish someone had told me sooner. I'd like to share them here, in case they can help others as they take to the air.
Spatial Awareness
If it's available to you, I highly recommend taking trampoline classes to complement your trapeze lessons. Trampoline has helped my body awareness an incredible amount. It's a good way for your body to practice some of the common movements and positions, so they're familiar when you're in the air.
Here's something else that took me far too long to think about and work on: keep your eyes open. For a long time, I didn't take in much visual information while in the midst of doing tricks. My eyes may not have been actually closed, but I wasn't using them. When you get to intermediate tricks with more rotation, spotting becomes critical, so I'd advise getting into the habit from the beginning. Learn to take in what you see, even as you're swinging and upside down. Practice spotting parts of the rig (net, platform, catch trapeze, poles) as you go through your tricks.
Using Grips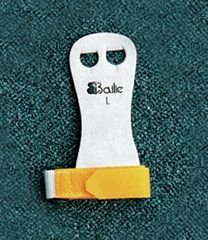 In my experience, most flyers use grips, and they've been good for me. Beginners should buy basic gymnastics palm guards, as pictured. Once you become advanced enough, you will transition to dowel grips – something I have yet to do.
You should only have the grips fully in place while you're actually in the air (and just before). The rest of the time, slip them off your fingers and let them flop around your wrists. Otherwise, you risk getting them damp with sweat, which can stretch them out. Also, put chalk under the grips and not on top of them. This may sound obvious, but it wasn't to me at first.
Finally, if your grips start to look too smooth (and therefore slippery), look around the rig for a wire bristle brush and use it to scuff up the leather a bit.
The Passing of Time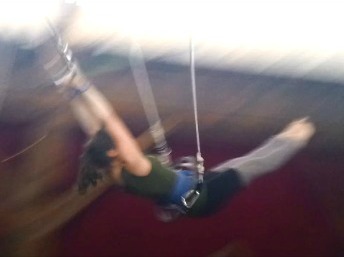 When you first start trapeze, you whiz through tricks. It's not uncommon to master a new trick every class or two, which definitely contributes to the trapeze addiction. Your progress won't always be so fast, though. Eventually, you'll find that one trick that is your own particular challenge (the pullover shoot, in my case, and I'm still bitter about the abrasions). Then, you graduate to working on the swing. After one try, you can tell it's hard, but what they don't tell you is that it can take months (at 1-2 classes per week) to get your takeoff and swing good enough to do it out of safety lines. I would've found it much less frustrating if I had a realistic idea of the normal timeframe. Read the rest of this entry »
By kate on January 20th, 2014
My friend of 20+ years, Kim-An Lieberman, recently passed away from cancer. Her husband asked Kim-An's friends to write letters to her children to share things they remember about her. After some reflection, I chose to share the story of our biggest fight to illustrate a life lesson I began learning from Kim-An and am still working to master.
---
Dear Cassia, Kellan, and Mireya,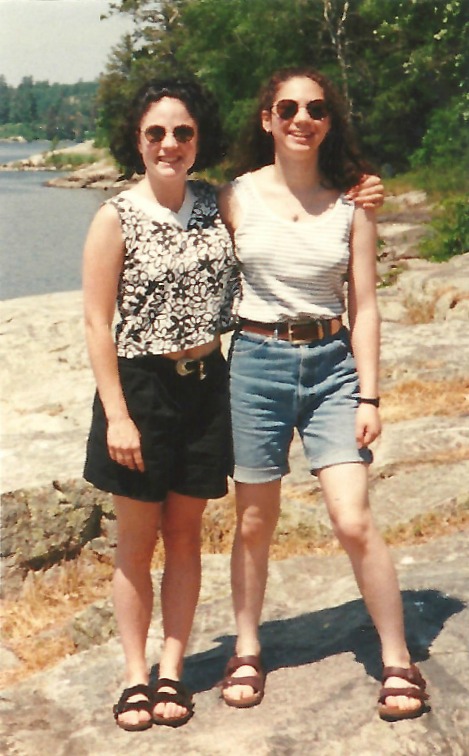 I knew your mother since 1993 when we were in college. While we were at the University of Washington, we taught a few classes together and were roommates for a while too. We did a lot of fun things together, but when I tried to think of a moment to share with you, I thought of our one big fight.
Neither Kim-An nor I were prone to arguing, and we were both pretty reserved. Even through our years living together, we didn't get really close or connect on an intimate level. We were friends with a lot in common, yet we let our shyness and reticence get in the way of a truly close friendship. I always wanted to be closer, but let my insecurity keep me from risking that step.
By kate on December 31st, 2012
2012 was a strange year. In the pedestrian scale of my own life, things went pretty well. My job, health, and relationships have all been good. But a lot of hardship and tragedy befell my friends, and at the end of the year that's what stays with me.
This year, four friends were killed in two sudden, shocking events. First Drew and Joe were lost in the Cafe Racer shootings. Only a few months later, Lee and Judy, off on a childfree anniversary adventure in Peru, died in a car accident. All four people were inspirational to me in some way already, but seeing the outpouring of tributes to each gave me an overwhelming sense of the impact one person can have on the people around them.
2012 was also the first year that cancer hit close to home, striking three friends in my own generation. I've been anxiously watching updates on email and Facebook, unable to do very much, hoping with all my heart that the limited scope of current human technology is enough. So far, the news has been cautiously good and my friends all continue to fight. They're never far from my thoughts – my most fervent best wishes to Molly, Chris, and a third friend who's not public with it all yet.
Is this just what it's like to get older? To have illness and death sidle closer and closer to you, capriciously choosing one friend after another until it's your turn? I knew that would eventually be the case, but it seems too soon. I'm not even 40 yet!
So, with the turn of the new year, I'm going to optimistically say that I hope 2012 was just a dark year, and that 2013 will mean good things for not just me, but everyone I care about. Happy New Year!
---
UPDATE 1/20/14:
One of my friends lost her battle with cancer in December, leaving three kids, a husband, and community of friends and colleagues bereft. On the good side, my other two friends mentioned above are in remission and recovering well.
By kate on January 18th, 2012
[I'm honored to be the one asked to write my company's blog post for today's SOPA/PIPA blackout. I'm re-printing it here.]
Why Can't I See Reviews on Urbanspoon?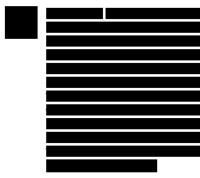 Today on Urbanspoon, you'll notice that some content in the United States has been blacked out. We're making this dramatic gesture to illustrate what might happen to the internet if a law currently proposed in Congress is passed. Along with Google, Wikipedia, Tumblr, Reddit, and thousands of other websites, we're participating in a coordinated blackout today to focus attention on this critical issue. Here's an explanation:
We believe that if SOPA/PIPA passes into law, it will be lethal to the internet as we know it. That may sound exaggerated, but we encourage you to read the information on these sites to learn more and see just how serious it is:
Most importantly, PLEASE contact your senator and representative today to express your opposition to SOPA/PIPA. Here's one site where you can email Congress.
In closing, enjoy the video The Day The LOLcats Died.
UPDATE: The Oatmeal contributes an excellent anti-SOPA piece.
By kate on September 9th, 2011
At Urbanspoon, we've recently started using Chef to manage our production servers. Now that I'm familiar with it, I love its ease of use and flexibility, not to mention the time savings.
When I was first learning Chef, though, I found the learning curve pretty steep because of all the terminology. It was hard to understand how all the components related to each other. I wasn't able to find anything online that would have helped give me the overview I needed, so I created one myself.

Click image for full diagram.
By kate on May 4th, 2011
This is the second of two posts I originally wrote for Offbeat Bride.
As I said in Offbeat Divorce Part 1, my marriage failed. After a period of struggle, we decided to separate (and have since divorced). The separation process was also fraught and sometimes felt impossible, but I got through. Here are a few things I learned.