By kate on April 27th, 2011
This is the first of two posts I originally wrote for Offbeat Bride.
Hi, my name is Kate and I failed. I had a somewhat offbeat wedding, was married for 8 years, ultimately failed at it, and got divorced. I'm starting this way because it's not something you hear people say very often. After a marriage falls apart (or serious problems are worked out), it's swept under the rug, put in the past, and never mentioned. This might make the newly-divorced feel better, but it creates a false impression that most people are happy and have never had these problems. When my marriage was exploding, I felt so alone and so defective in a world full of (apparently) shiny happy people.
In this post, I want to pass on a few of the things I learned while my marriage was struggling, before we decided to separate for good.
By kate on January 8th, 2011
A friend, who has started drinking more tea, asked what kind of teapot to get. I spent a little time on my response, so I thought I'd share. I drink one to two pots of tea every day, so I have a good idea of what works (for me, at least). Here are the items I recommend, if you want to be a serious tea drinker:
Teapot
You can get something fancy if you like, but you can't go wrong with the classic English "brown Betty" style (it comes in other colors too). It's a virtually drip-free spout design, and you can get various sizes. Mine is a 6C size, which fills 3 large mugs.
Filter
Don't screw around with tea balls – get a good, large filter so your tea has room to unfurl. Along with this, I recommend a small dish to put the filter on (to catch drips) if the filter doesn't come with a base. I have and like both of these filters:
Mug
You can drink tea out of any mug, although I recommend a large size so you're not constantly refilling it. In the nice-to-have department: for Christmas my brother bought me two of these beautiful Bodum glasses, and I LOVE them. They're insulated, hand-blown, and dishwasher-safe.

Bodum Pavina 15 oz glass
Other Items
You'll definitely need a tea cozy. It may be challenging to find one that isn't all kitschy or flowery, but they're out there. In Seattle, they carry good ones at Teahouse Kuan Yin in Wallingford. I also recommend a wooden trivet for your teapot… it'll absorb drips and keep it warm longer.
By kate on September 4th, 2010
My brother Michael got married this month (the wedding was wonderful). I was a bridesmaid, and one of the things he requested of me was a guide to Seattle for the out-of-town visitors. I've lived in the Seattle area for about 26 years, so I have a good sense of what I think is most worth showing off to visitors.
The guide turned out pretty well, and several of the guests thanked me for the help. At their suggestion, I'm posting it here so others can use it.

It seems to me that the biggest problem for visitors to any city is that there's too much information, too many long lists of things to see and do. So the approach I took was to narrow it down and curate a list of my top recommendations in a bunch of categories. Visitors can either focus on categories of interest to them, or choose one interesting destination and use my guide to find other destinations in the same neighborhood.
If you have any feedback on my guide, feel free to leave a comment here.
By kate on August 6th, 2010
The other day, I ended up at an outlet mall with my keys locked in my car, a 1992 Honda Civic, and needed a cheap way to get back into my car. Here's the easy method I discovered.

Before I go any further, let me just say please don't use this method on someone's car without their permission. In addition, it's a last-ditch technique, since it can damage your car's weatherstripping. However, if you're a Honda Civic owner like me and need to get into your car, feel free to give this a try.
Because I was at an outlet mall, my first thought was that wire hangers would be easy to come by. As I walked around the stores, though, I observed that all their hangers were the plastic kind. I was about to give up on this approach when I walked past a kitchen store. I thought that there MUST be something in a kitchen store I could use, and lo and behold, I was right.
For the low price of $2.49, I was the new owner of four metal barbecue skewers, one of which I used for my own purposes. I used the metal on a trash can to bend the skewer into a hook shape like this: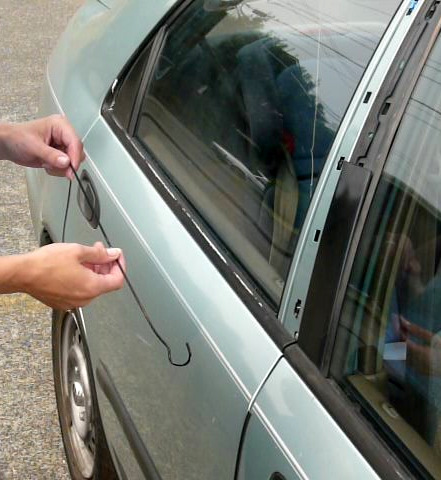 After a few false starts, here's the method that worked. I slipped the skewer into the side of the window (either front passenger or driver's side will work).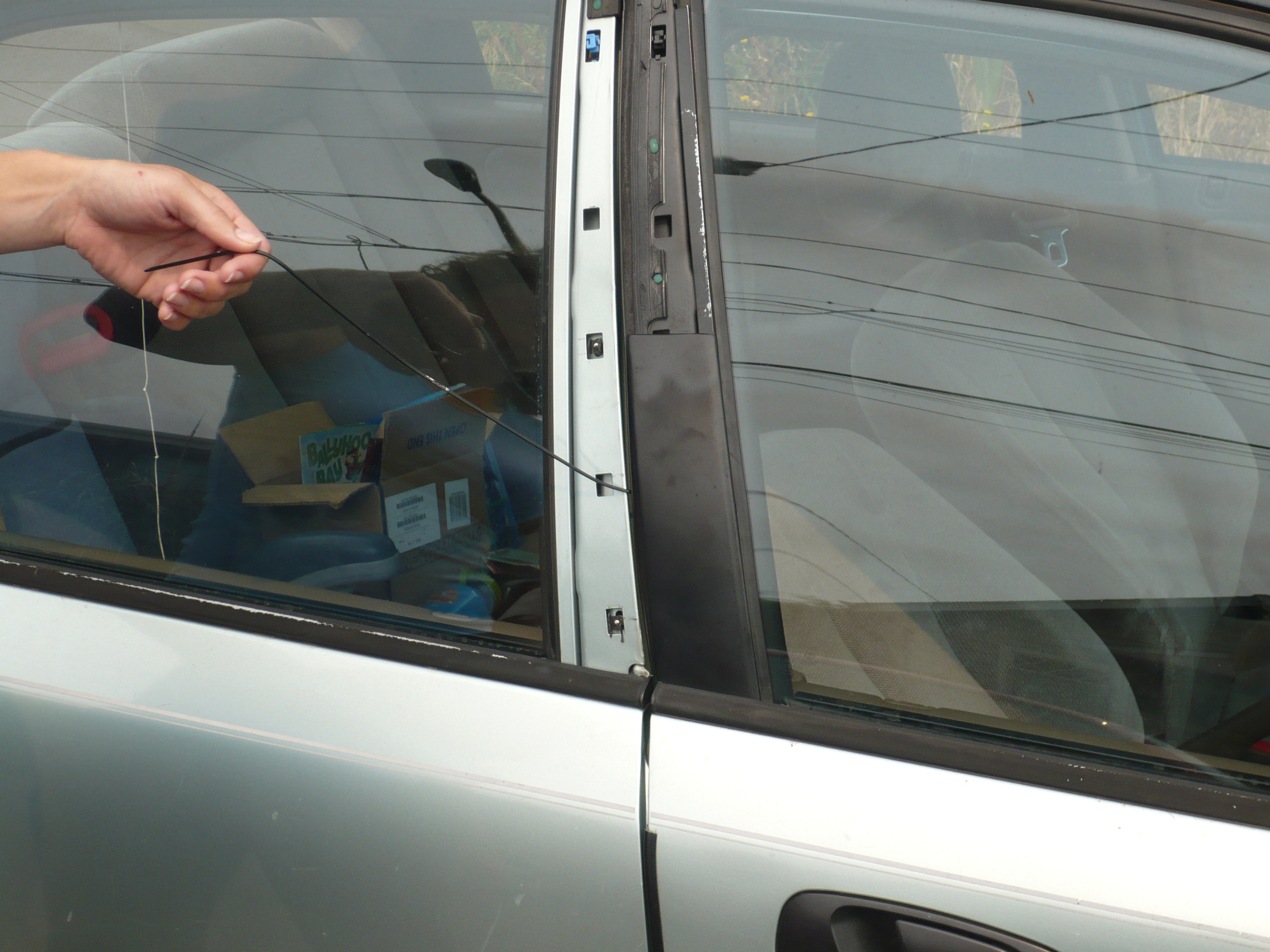 I maneuvered the skewer past two weatherstripping barriers, and then the hook was inside the car!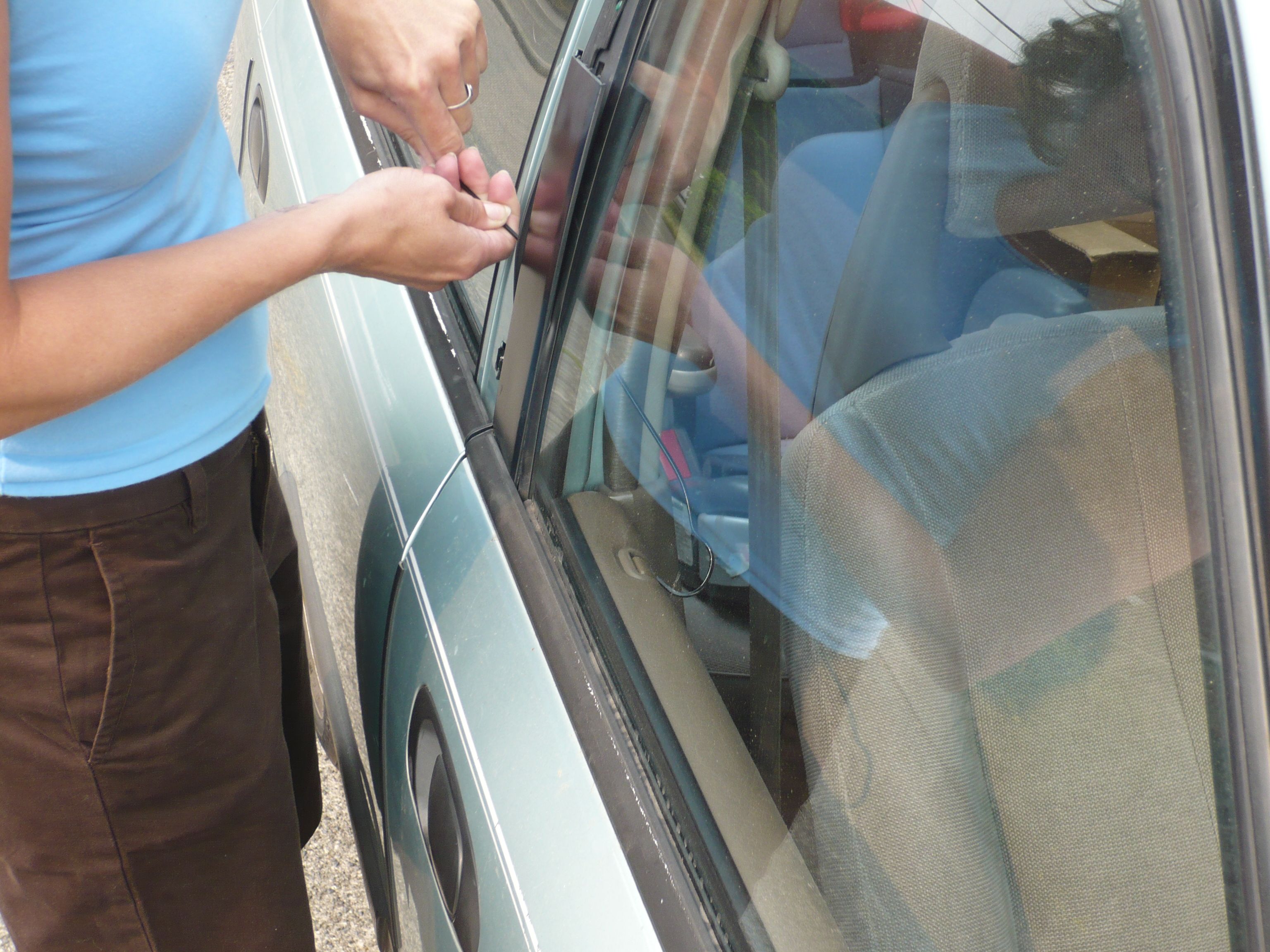 After that, it was fairly easy to use the hook to pull up the door lock. In case you don't believe me, here's a video of the whole process, which took a little more than 30 seconds:
Once I was aware of it, I noticed that my Civic appears to have quite a history of this entry method: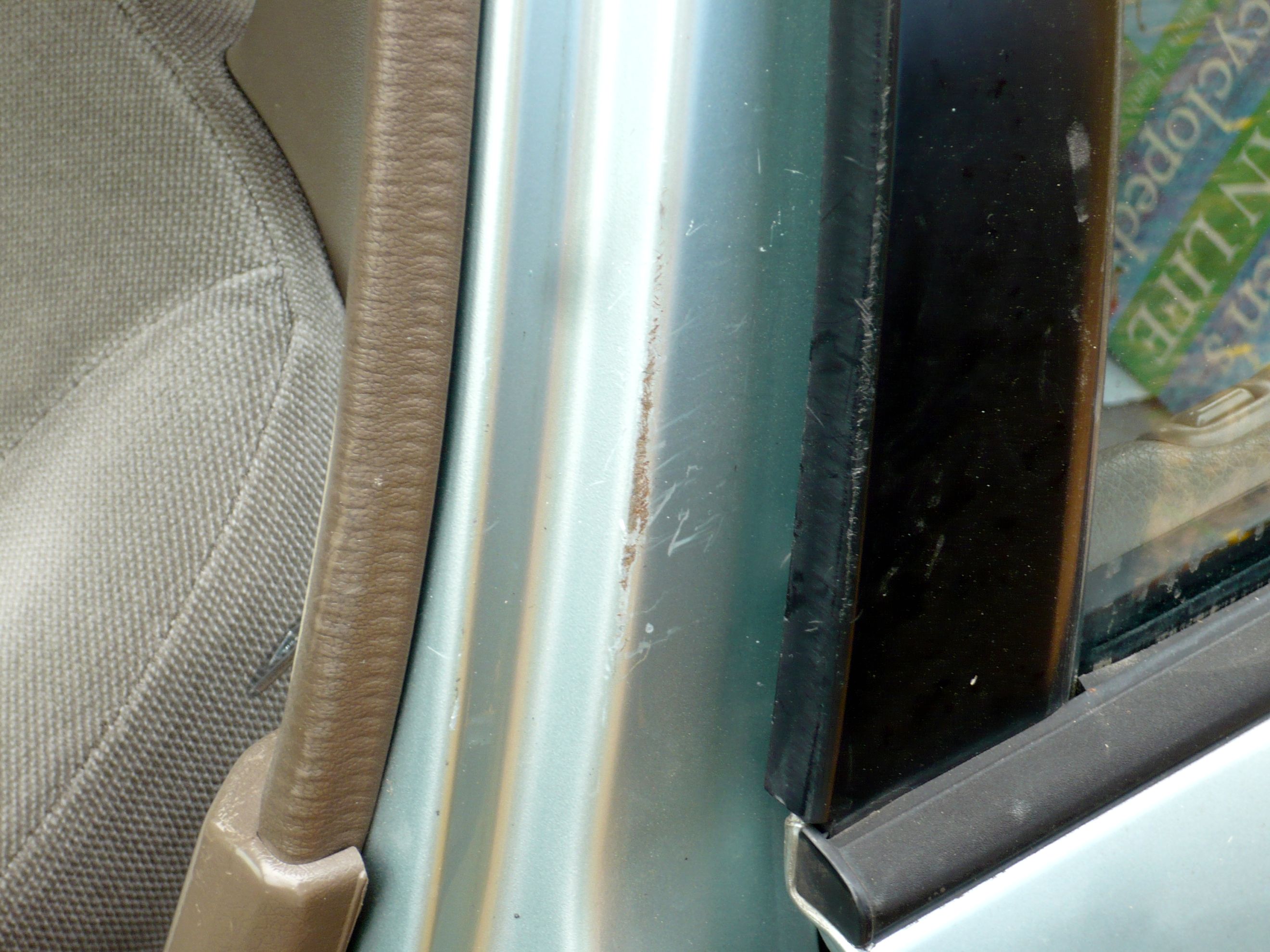 This was a strong reminder to me that I should never leave valuables in my car. If you own a '90s Civic, the same applies to you!
By kate on February 22nd, 2010
(mouse over pictures for captions and click for bigger versions)
After taking a weekend off of the project, we were back at it on another Sunday,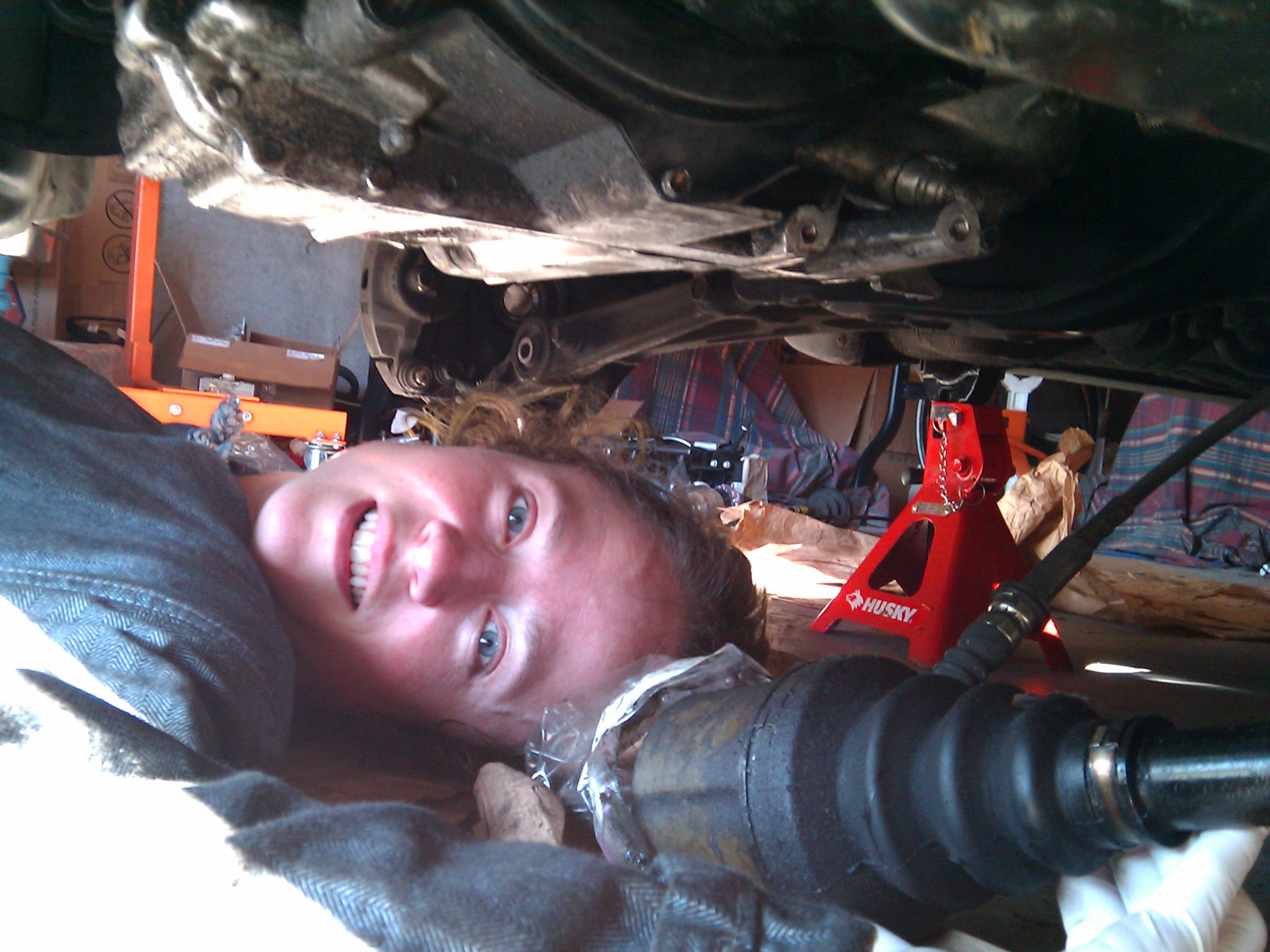 cautiously hoping to be able to turn the car on by the end of the day. We put on all the stuff we'd had to disconnect (driveshafts, suspension, exhaust, radiator) and plugged in all the clips and hoses again.
After pouring in the fluids, we arrived at the Moment of Truth. I got in the car and turned the key to accessory power. So far, so good. I turned the key again and there was a kind of popping noise as it started to turn over. This spooked us, so I turned off the engine. We consulted our reference materials and all we could find was some advice that the engine wouldn't start or run smoothly at first, so I got back in and tried again.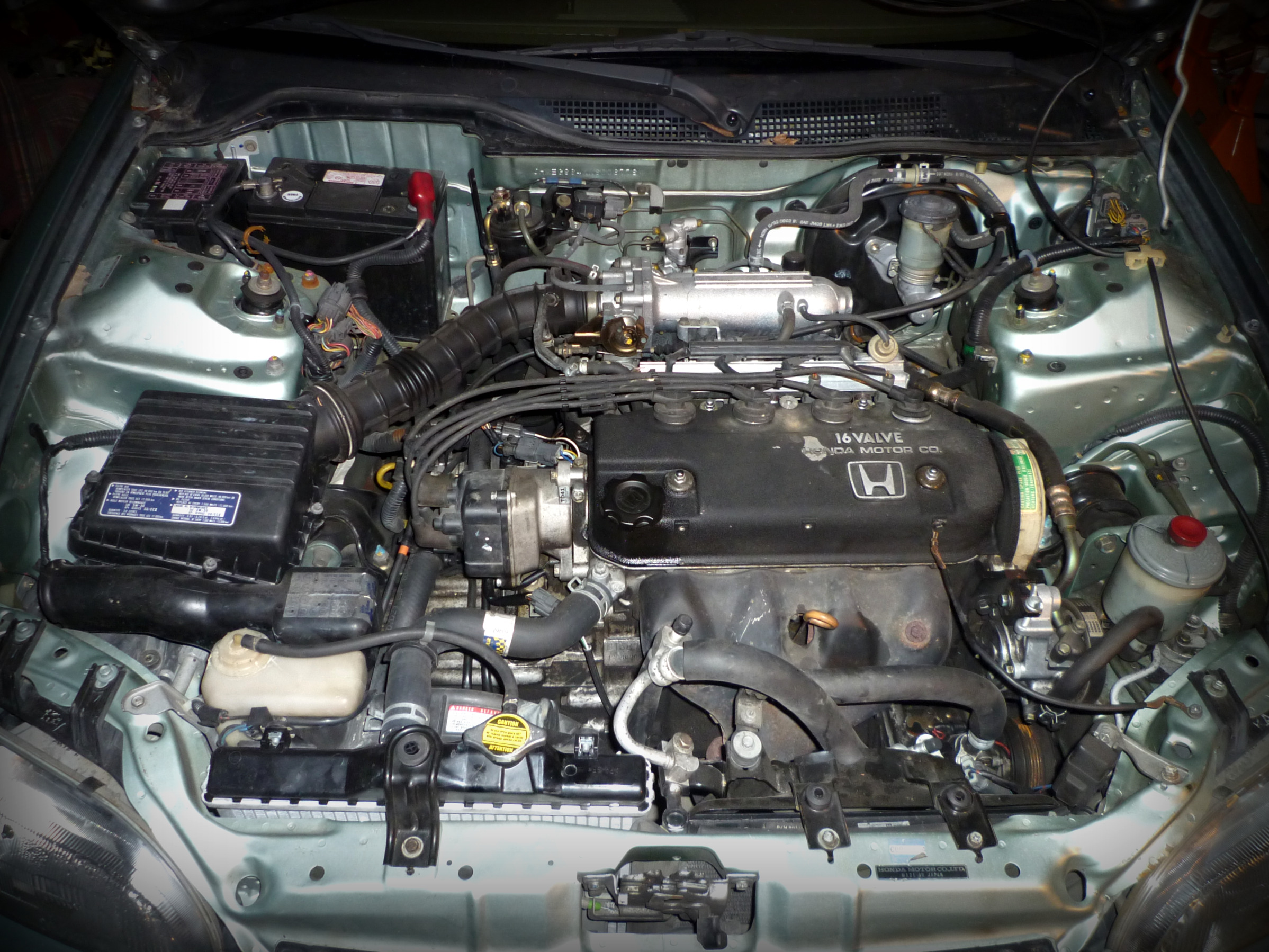 This time, the engine started up pretty quickly, and actually ran! There were no obvious problems that we could see or hear. It was a joyous moment, one I'd hoped for but never let myself really expect. My grin was a mile wide.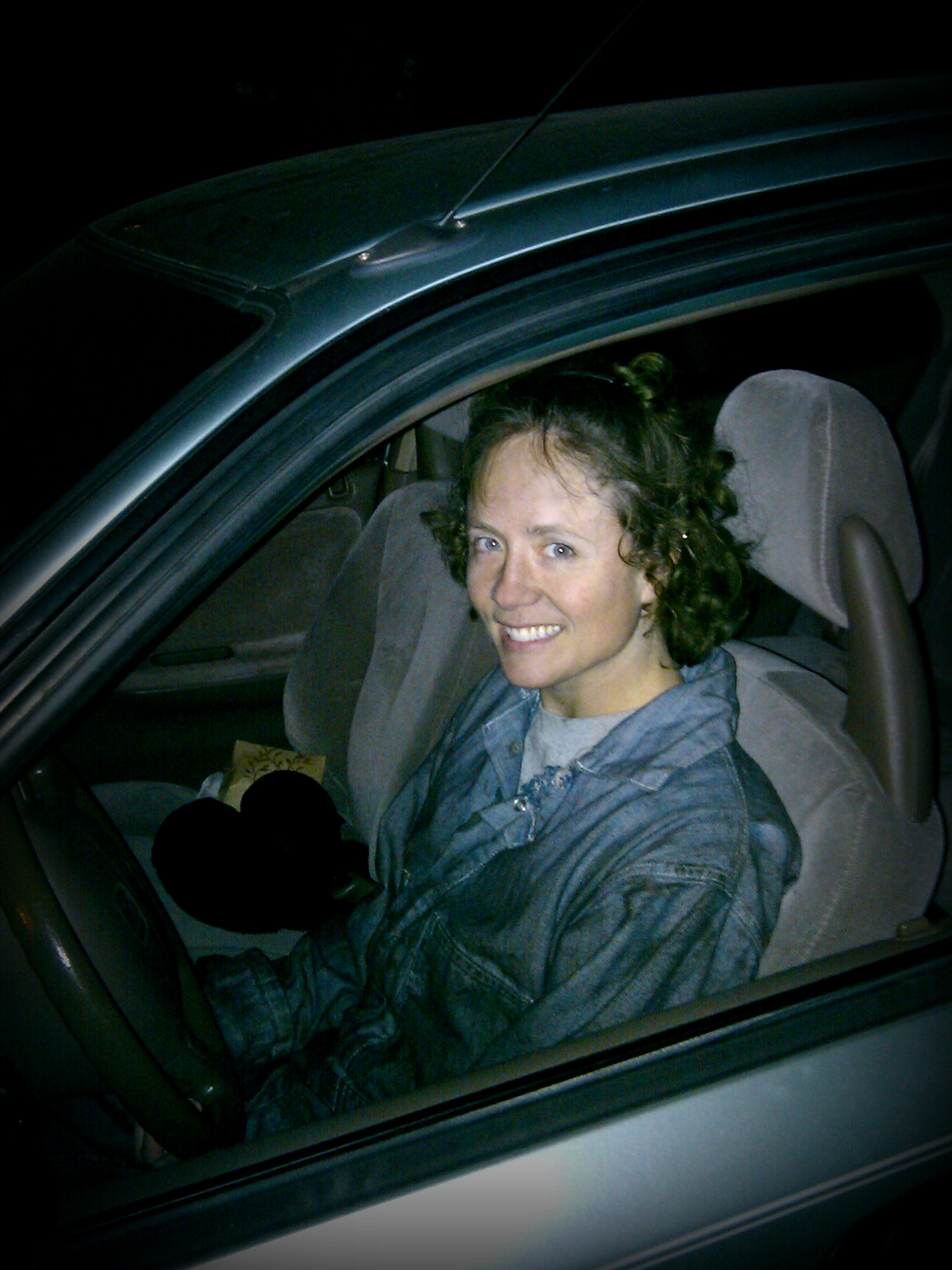 At that point, it was late and we were tired, but we pushed through the last hour of work (putting on wheels and hood, mostly) so we could actually drive the car out of the garage that night. I was giddy as I pulled it out and parked it on the street.
The next morning, I took it to a mechanic for a few adjustments that required special tools we didn't have (timing light, belt tension measurement). The mechanic found one small issue (an extra washer causing a fuel leak), but otherwise praised our work. The one-hour minimum of shop time was plenty to get everything adjusted, and I drove the car away afterward, running smoothly.
Even after five and a half days in the garage slogging through this project, I'm not tired of working on my car. I enjoy the measured pace of engine disassembly and reassembly, and wouldn't mind doing it again. I'm already building a list of possible next projects:
fix non-working driver side speaker wiring
add windshield wiper fluid reservoir (mysteriously missing)
fix air conditioning system
look into adding power door locks
troll junkyards for missing trim pieces
My car will never look fancy (it's a banged-up '92 Civic, after all), but I'm developing a real sense of pride in it. It's a great feeling to drive around in a car whose engine I now know so thoroughly.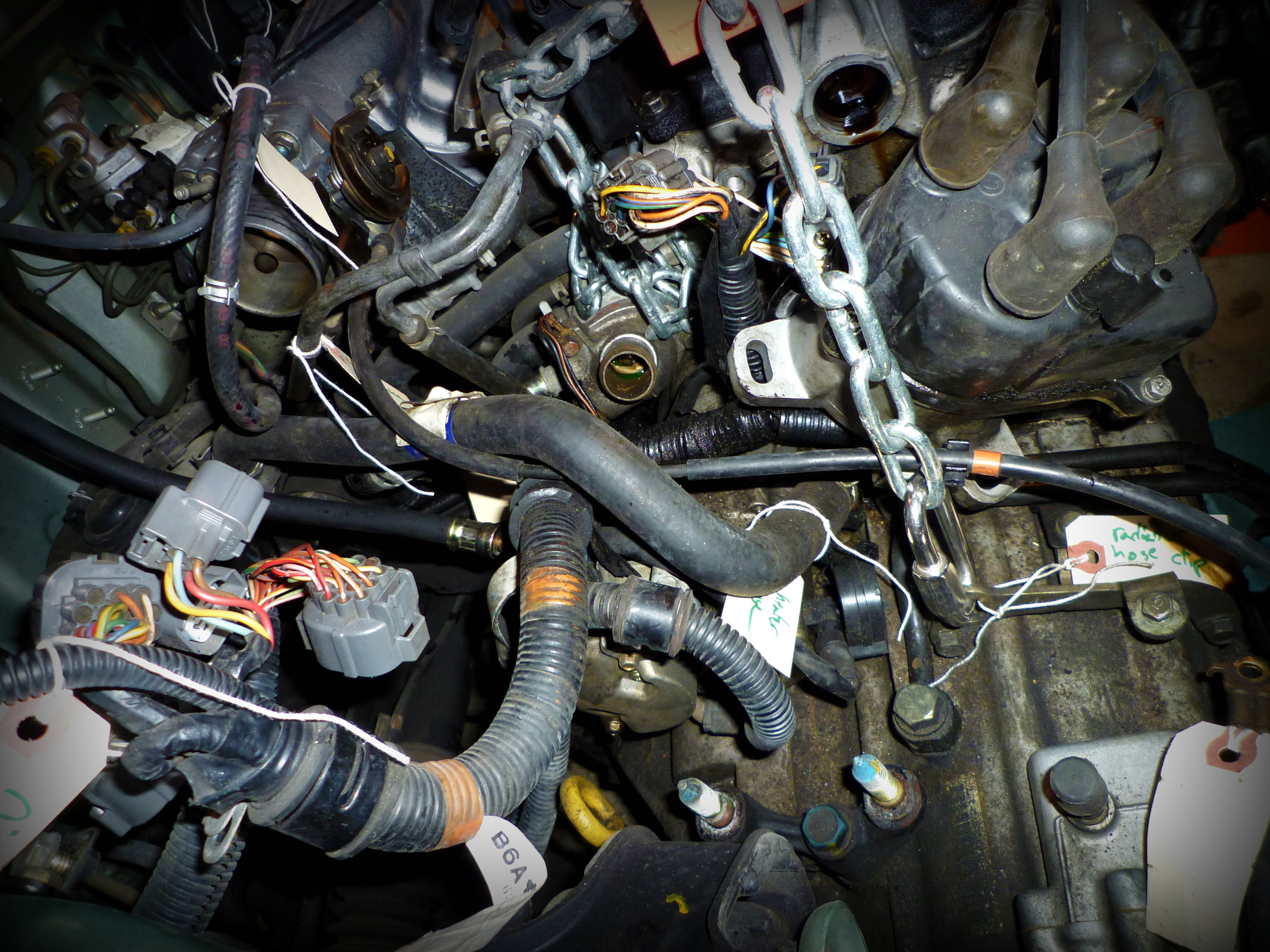 By kate on February 8th, 2010
(mouse over pictures for captions and click for bigger versions)
As I discussed in my previous post, after removing the engine it became clear the best thing to do was to keep the engine I had. I ordered some needed parts (gaskets, mostly) online. We detached the head from everything else and I took it in for resurfacing to a local machine shop, Action Machine. I had a great experience with them – they were friendly and nice, and reasonably priced. Because I knew just enough to sound knowledgeable, I was able to chat with the guy while dropping off the head, and found that he could sell me the head gasket and head bolts for much less than I had been able to find anywhere online.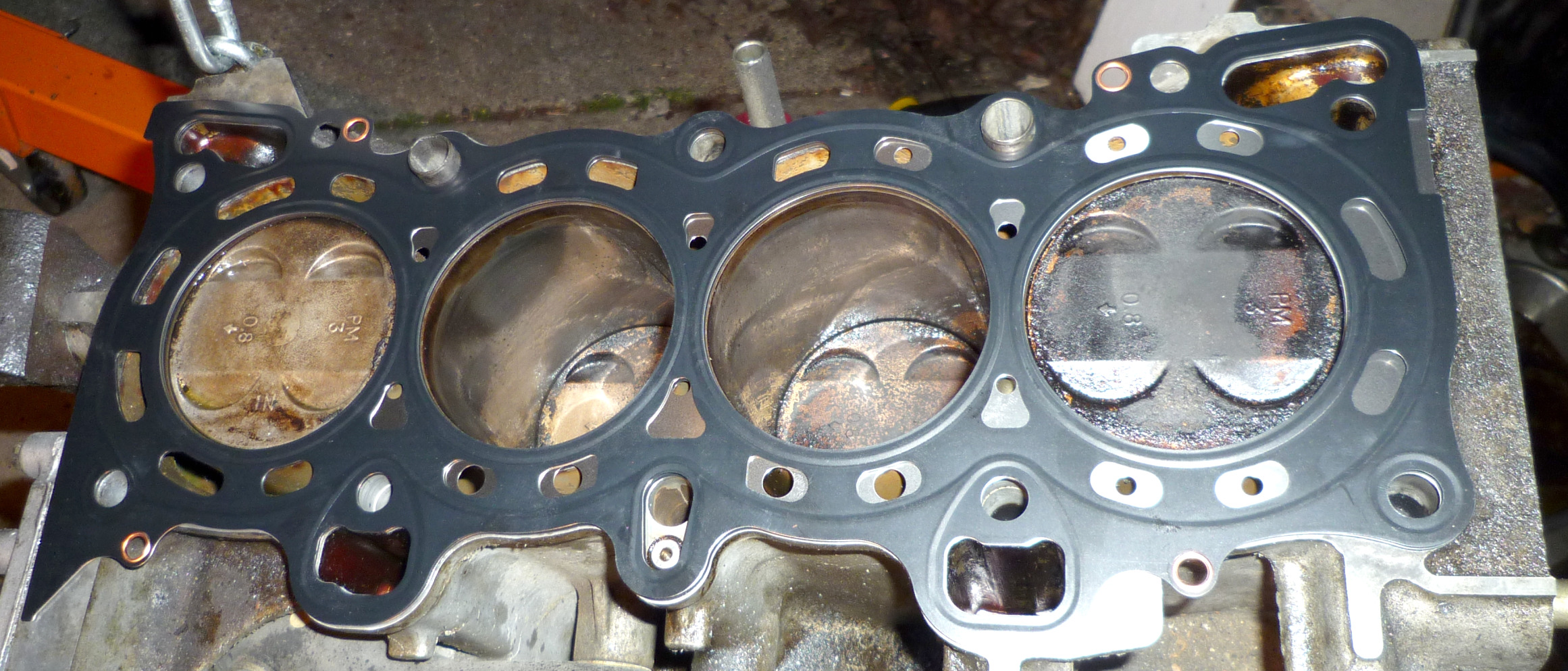 A handful of other specialized parts had to be ordered from my local Honda dealer (luckily nothing too expensive), and we stopped at Schucks for the more pedestrian things like fluids and filters. Overall, I spent $259.98 on parts, plus $64.50 for the head resurfacing; a total of $324.48 – significantly less than the $1700+ quoted to me by the mechanic. Doing the labor myself saved me about $1400.
Then followed a long weekend of work on the car. Saturday was very discouraging. We spent a lot of time carefully scraping off the old gaskets, then realized we were missing some important (new) gaskets and had to make a second trip to the dealer.  By the end of the day, we'd only just put the head back on the block. Adding to the aggravation and the feeling things were taking forever was the fact that the head bolts must be tightened in a very specific pattern, three times each. That is, we had to go through the bolts (in the pattern) three times, tightening to the next torque setting each time. Quite a pain, but we were careful and followed the directions to the letter.
The next day, Sunday, things picked up. We finished reattaching all the other engine parts that we had removed (transmission, wiring harness, distributor, etc). By the evening, we were able to hoist the engine back in the car and attach a few of the mounting bolts. It felt really good to pass that milestone and have the visual confirmation of the engine inside the car.