By kate on January 24th, 2019
In October, I gave this presentation at the annual NACIS conference in Norfolk, VA. I designed and gave the talk, but the printing expert who provided the content (and a video cameo) was my late and greatly missed colleague Bruce Daniel.
Imprimatur: Printing Maps in Today's Digital World
If you want to print a map, what do you need to know about printing terminology and methods? How much will it cost? What should you expect when working with a print company? How can you prepare your files to avoid costly corrections? Ultimately, how do you ensure that your map shines even more on paper than it does on the screen?
By kate on January 24th, 2019
In October, I gave this presentation at the annual NACIS (North American Cartographic Information Society) conference in Norfolk, VA.
Be a Cartography Expert in Three Easy Steps
How to give a presentation about a conference. Focused on this cartography conference but applicable to any conference.
By kate on November 19th, 2017
Last month, I gave a presentation at the annual NACIS (North American Cartographic Information Society) conference in Montreal.
The Journey from Raster to Vector Basemaps with ArcGIS
Esri customers are watching companies like Mapbox dazzle the cartographic world with vector tile mapping and wondering when the benefits of vector tiles will be within reach. Now they are! In late 2016, Esri removed the "beta" label from their vector tiles, and vector tiles can now be authored by anyone with ArcGIS Pro and published to ArcGIS Online. Vector tiles offer enormous promise: high-resolution graphics, client-side rendering, significantly smaller storage and bandwidth needs, and the ability to apply multiple styles to a single tileset. With all these benefits, what do you need to know before taking steps to leave your raster basemaps behind? I recently developed a vector tile basemap for the City of Seattle, and I'll share what I learned, good and bad. Topics include: paradigm shifts in basemap organization; technical details; best practices; workflow; advice on working efficiently; and lots of tips, tricks, bugs, and stumbling blocks.
By kate on March 15th, 2017
I'd like to announce a #resistance project I've been working on: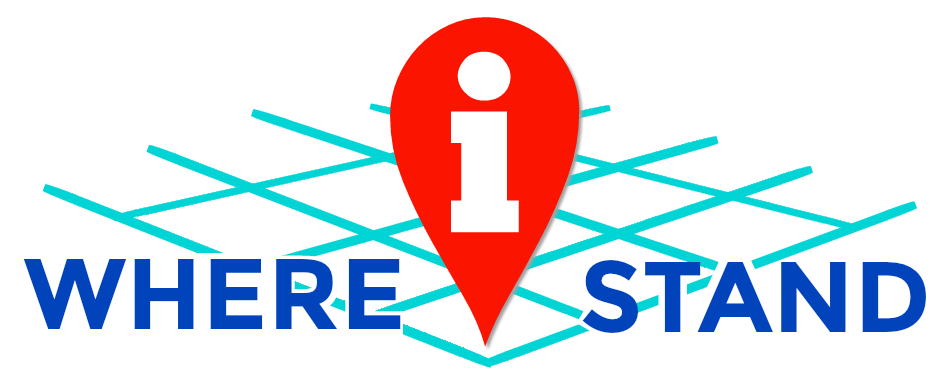 I'm raising money for vital non-profits by selling beautiful and striking map art decals for your phone. I created six designs, each inspired by a different cause that's under attack right now. All proceeds from each design will go to a non-profit working for that cause. I'm supporting:
I selected non-profit organizations that are fighting on a national level, to have the greatest effect. All of them have a rating higher than 90/100 on Charity Navigator, indicating low overhead, good financial management, and transparency (except Black Lives Matter, which doesn't make enough income to be rated).
At least $5 from each decal will go to the designated cause, more if I can order in bulk or have a promo code. Right now the decals only feature Seattle and Puget Sound, and are only for cell phones. Let me know if you'd be interested in a laptop decal or another geographic area.
Buy one for yourself, and please spread the word! It's going to take a lot of funds to keep up the good fight.
By kate on January 11th, 2017
This fall, I attended my second NACIS (North American Cartographic Information Society) conference, which has become a highlight of my year. One talk I found particularly inspiring was John Nelson's presentation on Firefly Cartography. I could explain what that means, but an image makes it pretty clear.
I was excited to make my own firefly map. At the same time, I was knee-deep in roads data for my employer, the City of Seattle, and had been wondering about the public staircases I noticed there. So I seized on that theme, and created this map in a few hours, using only ArcMap.
As John noted, glowing things have a white center surrounded by opaque color, then increasingly transparent color. I didn't take the time to make perfect gradient icons in Illustrator; instead I just repeated the layer several times in ArcMap. The staircases are classified by length, so longer stairs are greener and brighter.
After I finished I was pleased with the look, but I wanted to take it a step further and make it really glow, not just look like it was glowing. So, I had it printed on glass!
It's easier than you might think – you can order glass prints from Shutterfly (promo codes are usually available for a discount off the list price). Now my map truly glows.
By kate on June 1st, 2016
This summer, I'll be traveling in Asia for three months with Grant and Ruby. We leave on Saturday! While we're gone, we'll be blogging at Traveling Ruby – go there to follow our adventures.
By kate on May 7th, 2015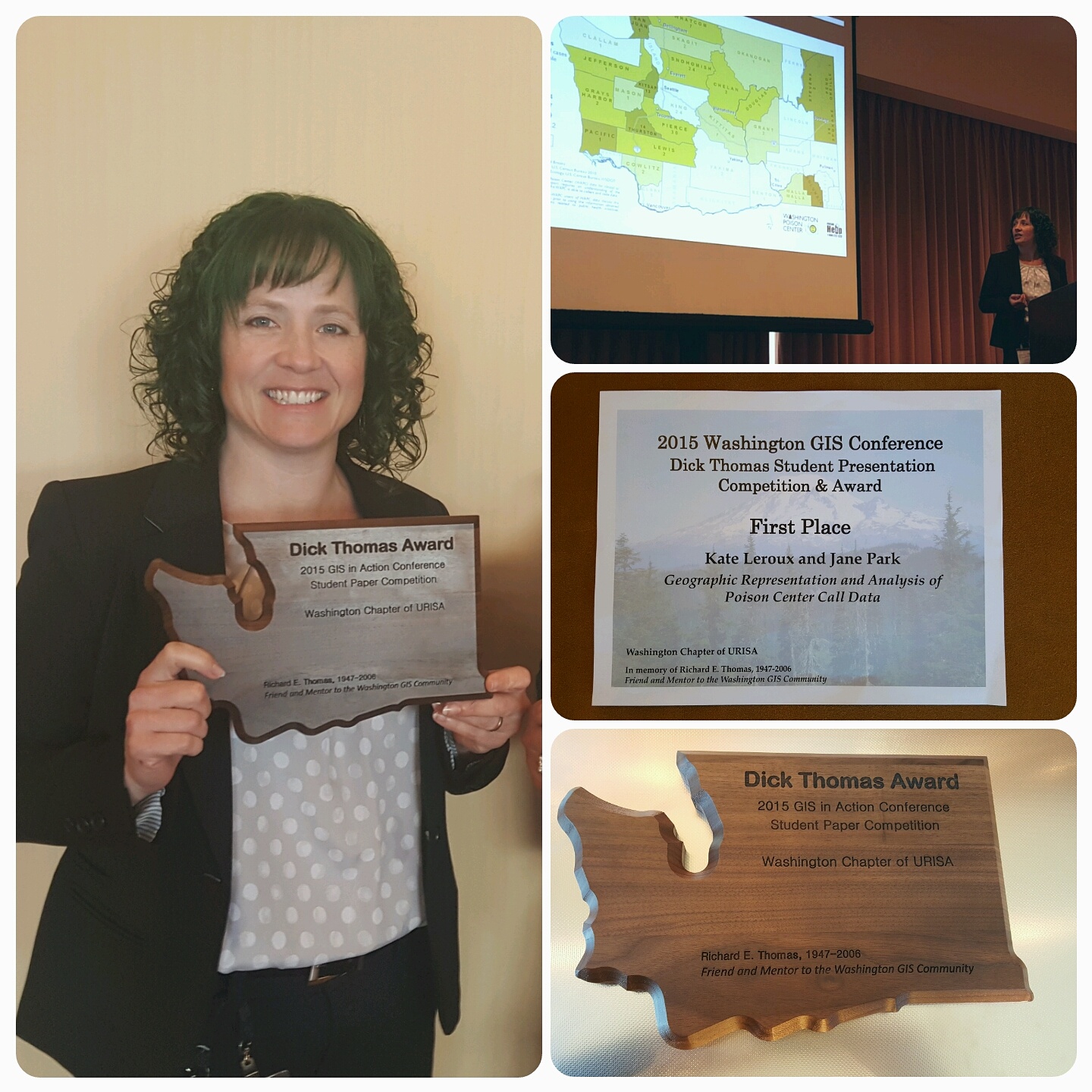 This week, I attended the GIS in Action conference and competed in the Dick Thomas Memorial Student Presentation Competition. I'm excited to say that my project won first place!
We presented the work we did for the Washington Poison Center: analyzing their call data, then creating static, animated, and interactive maps they can use for outreach and fundraising.
If you're interested to see more, my slides are here and you can see some of my maps on my LinkedIn profile.
The complete 15-minute presentation is below. I recommend following along with the slides on your own, because the video cuts them off.
By kate on February 26th, 2015
It's fun to post about things I'm good at or know a lot about (like trapeze, where I'm working on the double – very exciting). I have a much, much harder time when people see me being bad at something. I get embarrassed, upset, and self conscious and just want to hide.
I'd like to be able to change this, especially now I can see that my daughter takes after me in this regard. I want her to learn as a kid that it's OK to be bad at something for a while, to stick with it anyway, and enjoy the fun of it. I was inspired by my friends Brian and Molly, who boldly started beginner piano lessons to demonstrate this to their kids.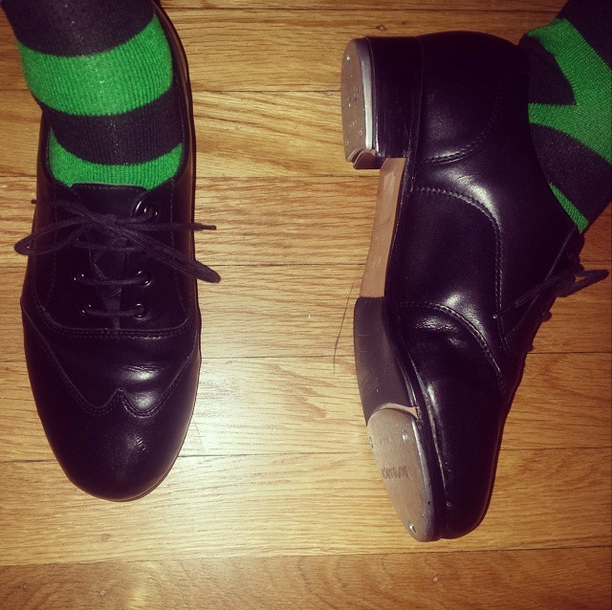 So, I signed up for a beginner tap dance class. I've always wanted to know how to tap dance, to be one of those people who can just whip out a little shuffle-step when needed. Finding perfect tap shoes at the thrift store followed by finding a class that actually fits my schedule prompted me to finally do it.
In a class of beginners, I'm the newest and the worst. The teacher is always giving me easier variations on the steps so I can keep up. And forget about operating my hands and feet at the same time – so far that's impossible. By the end of every class I'm thoroughly demoralized and feel like a failure.
… which is what I am trying to practice. So I remind myself that it's OK, it's part of the point to feel this stuff. Then I try to talk about it in front of Ruby as much as I can. Last week I practiced in front of her too, working on a step until I got it down. In June, I'm facing the horror of an actual dance recital where my class performs a tap dance number on a theater stage in front of a large number of people who are only there to see their child perform (in a different song in the same show).
This is the hardest role model work I've done so far.
By kate on November 6th, 2014
I'm a Seattle Times subscriber, because I like to read a local newspaper and it's the only one left. They have their weaknesses and I don't always agree with their editorial positions, but they still do strong investigative journalism. Recently, I started to notice a series of ads running in the Times advertising the Sunday edition of the paper. Each ad featured a "person" (I'm guessing they're fictional) sharing their Sunday experience and how the Seattle Times is a central part of it. That's a nice concept, but the execution started to annoy me as I realized each character was very stereotypical.
Wishing I would see some against-the-grain characters in this series of ads, I created my own. Below I've included five real ads from the Times so you can see for yourself how sexist they are.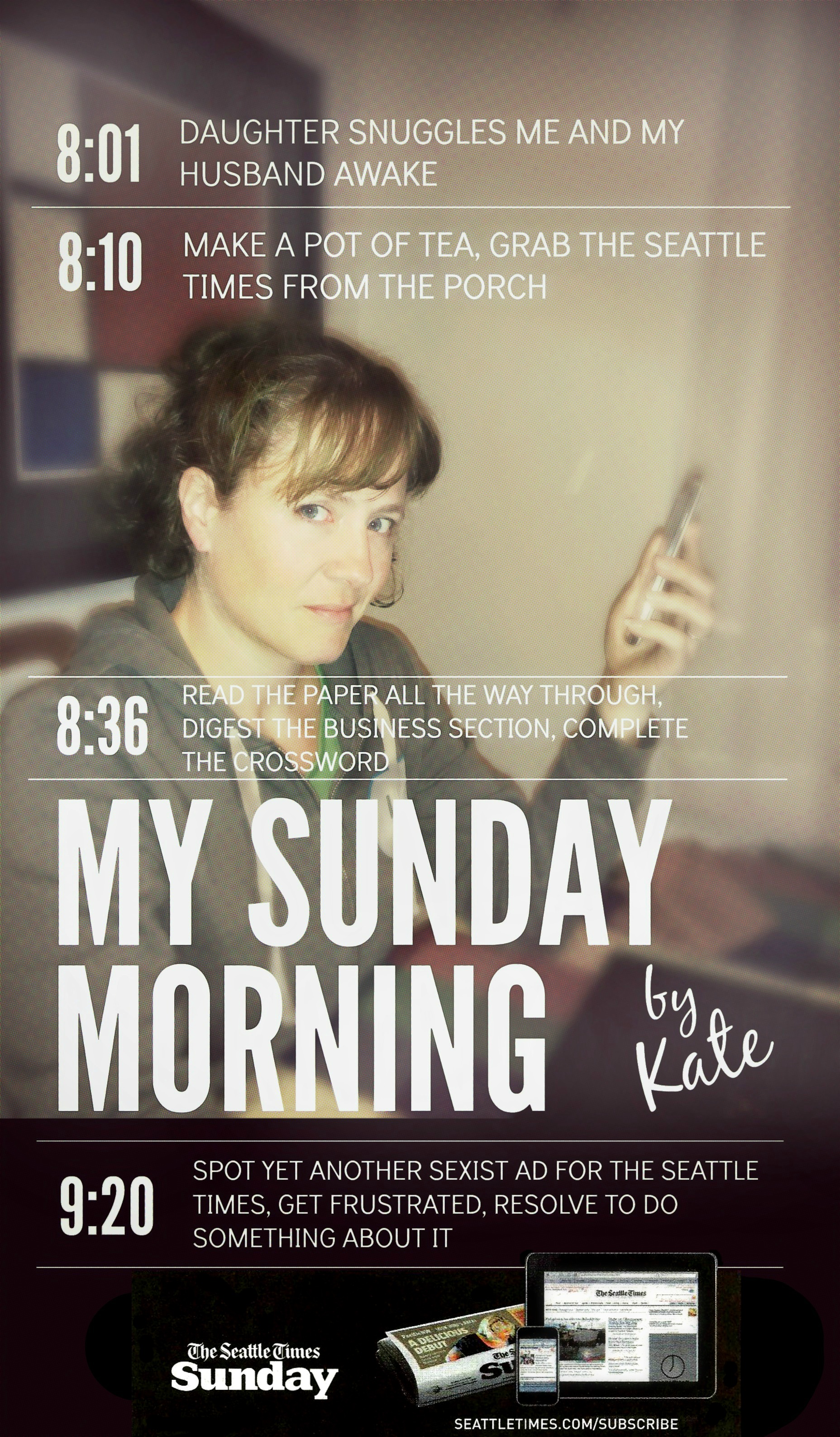 By kate on September 3rd, 2014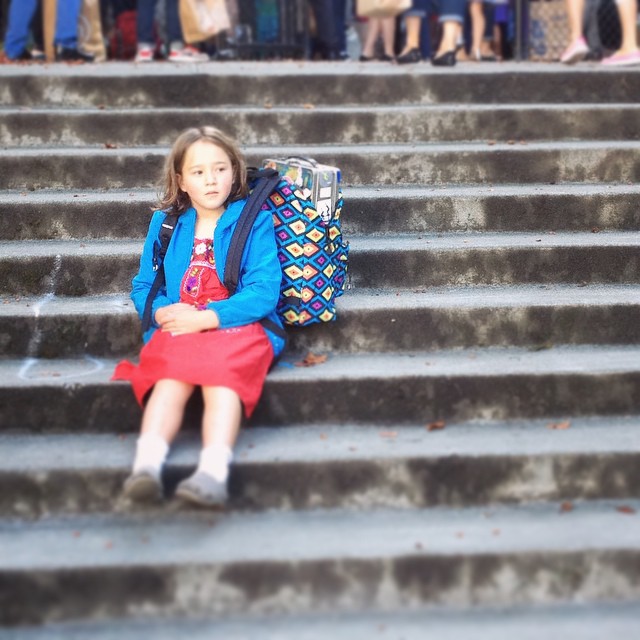 In honor of the first day of school, I'd like to share an idea that will ensure your kid has the most unique and awesome lunchbox in class.
I've long been a fan of metal lunchboxes. The soft, insulated ones are hard to clean when new and impossible to clean once they get some use and develop tears in the lining. I shudder to think what could grow in there. In contrast, metal lunchboxes are easy to clean thoroughly with soap and water. They last most of a school year under hard use, and when they're retired, you can see just how much damage they've protected your kid's food from.
Shopping for metal lunchboxes is tough, though. Like most children's stuff, the lunchbox selection is rife with branded characters and exaggerated gender stereotypes, things I try to avoid. Beyond that, there are a lot of retro lunchbox designs, which may appeal to parents but don't connect with kids. I tried a personalized lunchbox from Frecklebox, but it was expensive and didn't last long.
Finally, I hit upon the idea we've been using for a couple years now. I order a plain metal lunchbox ($18 with shipping) and let Ruby decorate it herself! She uses stickers and labels from her sticker drawer (and mine), sometimes drawing on or cutting up something to make it just right. Usually, the big sides are arranged in some kind of scene related to something she's been into recently. Here are the three she's created so far:
Once she finishes designing the lunchbox, I simply cover it with a layer of packing tape. This protects the decorations and is sturdy enough to last as long as the lunchbox does.
If you want to do this, I offer a few tips:
Make sure your child's name is in the design somewhere (so their name is on it).
Keep a pair of needle-nose pliers handy. The metal hinges come loose occasionally and need a good tightening.
When a lunchbox is retired, keep it around so you can use its parts (handles, fasteners) as spares. This makes them last longer.
If you don't have a lot of stickers, your child could use markers to draw on their designs instead.
By kate on June 10th, 2014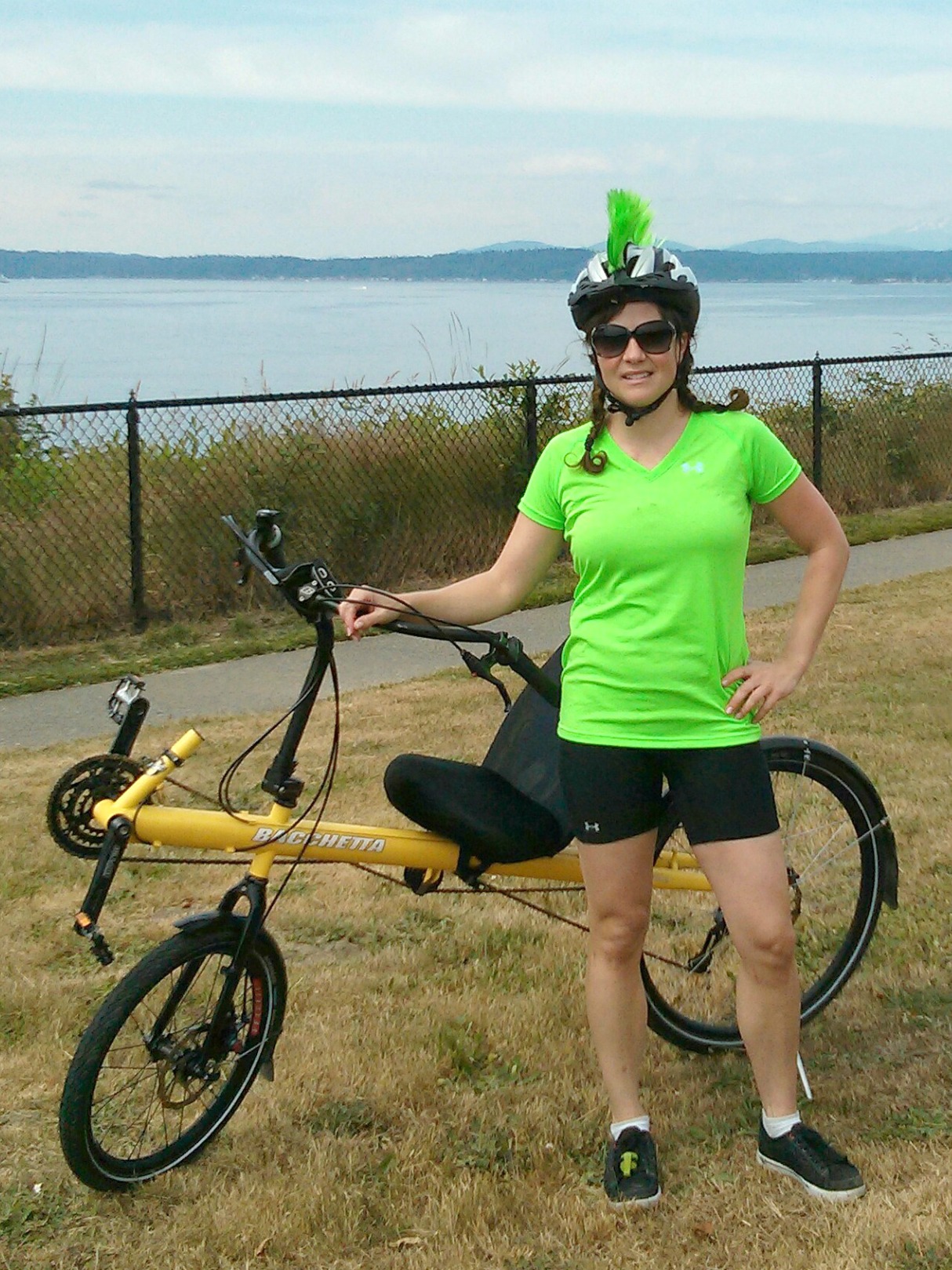 I've been a recumbent biker for a year and a half, and I'm hooked. The comfort of sitting on a "bent" bike is immediately obvious, but it took hundreds of miles of riding before the very different center of balance felt like second nature. Last year, I completed the 200-mile STP on my bike, nicknamed The Armchair, and proved to myself that I can ride up any hill that comes, albeit slowly.  At this point I wouldn't consider going back to upright.
One challenge as a recumbent rider, especially for women, is clothing. The padding on regular bike shorts is uncomfortable and unnecessary. Regular bike jerseys come with big pockets in the back. On a recumbent you don't even want thick seams on your back, let alone stuff in pockets, since your back presses against the seat back as you pedal. After some trial and error, I found great gear. Here are my recommendations.
CLOTHES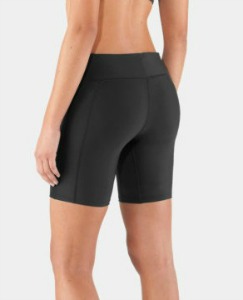 Under Armour Authentic 7″ Compression Shorts
No uncomfortable seams in the back, and it's a good length that doesn't ride up too far. They also have a comfortable, flattering waist that stays in place and doesn't roll down or dig in.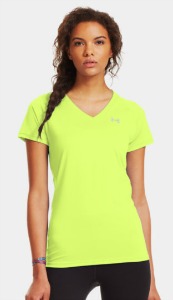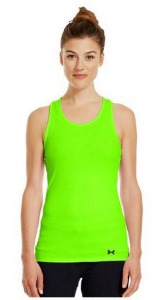 Under Armour Tech Short Sleeve V-Neck and Under Armour Victory Tank Top
Both of these are comfortable, breathable, and wick moisture well. I chose a very bright color (neon green) to help my visibility. The tank top makes better tan lines, and the t-shirt is good for when you've had too much sun.
Most sports bras clasp in the back, just where you don't want irritation. This one zips in the front and doesn't have any thick parts to bother you in the back. Note: you will be able to see a little bump in your shirt front where the zipper is (doesn't bother me).
I wanted to add some funky style to my look, so I added this velcro-attached mohawk to my helmet, in the same neon green. It also helps with visibility and gets lots of compliments.
RECUMBENT-SPECIFIC GEAR
Roswheel Front Tube Cell Phone Bag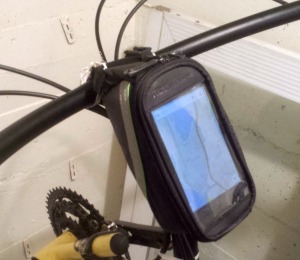 I was able to attach this to my handlebars as pictured, giving me a handy dashboard for my bike and the only storage I can access while riding or during a quick stop. It displays my phone (usually running Ride With GPS), and the space inside is perfect for snacks like granola bars, dried coconut, and Shot Bloks.
Outdoor Products Essential Waist Pack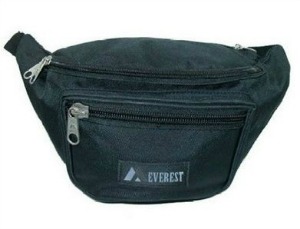 I strap this large fanny pack around my seat with the pack in the back. The strap is flat around the front so I don't feel it while riding. Inside, there's plenty of space for things like tools, keys, spare tire, wallet, tissues, ChapStick, etc. It's easy to unclip and take with me for security when I leave my bike (of course, I take my phone out of the handlebar cell phone holder and slip it inside here too).
Bike Peddler Take a Look Eyeglass Mirror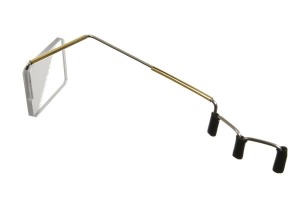 There's no good way to attach a mirror to a recumbent's handlebars, yet a mirror is especially important because it's harder to do a quick head-check behind yourself when you're seated on a recumbent. This perfect little mirror is the answer. It securely attaches to your sunglasses, adjusts easily, and stays where you put it.
Last but most important of all, my beloved bent bike. I chose this model after trying a wide range of recumbent styles at the excellent Angle Lake Cyclery, a local shop with a focus on recumbents. I added disc brakes and fenders for riding in the rain, and chose the Euromesh seat for comfort.
By kate on January 29th, 2014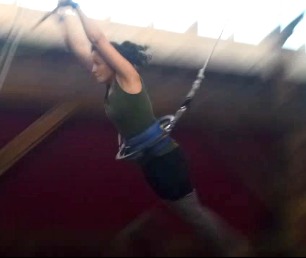 Since the summer of 2012, I've been taking regular flying trapeze classes at Emerald City Trapeze. I love it, and am currently close to mastering the cutaway half. In my year and a half as a trapeze student, I've picked up little tips and tricks along the way that I wish someone had told me sooner. I'd like to share them here, in case they can help others as they take to the air.
Spatial Awareness
If it's available to you, I highly recommend taking trampoline classes to complement your trapeze lessons. Trampoline has helped my body awareness an incredible amount. It's a good way for your body to practice some of the common movements and positions, so they're familiar when you're in the air.
Here's something else that took me far too long to think about and work on: keep your eyes open. For a long time, I didn't take in much visual information while in the midst of doing tricks. My eyes may not have been actually closed, but I wasn't using them. When you get to intermediate tricks with more rotation, spotting becomes critical, so I'd advise getting into the habit from the beginning. Learn to take in what you see, even as you're swinging and upside down. Practice spotting parts of the rig (net, platform, catch trapeze, poles) as you go through your tricks.
Using Grips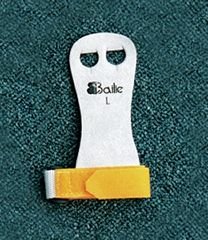 In my experience, most flyers use grips, and they've been good for me. Beginners should buy basic gymnastics palm guards, as pictured. Once you become advanced enough, you will transition to dowel grips – something I have yet to do.
You should only have the grips fully in place while you're actually in the air (and just before). The rest of the time, slip them off your fingers and let them flop around your wrists. Otherwise, you risk getting them damp with sweat, which can stretch them out. Also, put chalk under the grips and not on top of them. This may sound obvious, but it wasn't to me at first.
Finally, if your grips start to look too smooth (and therefore slippery), look around the rig for a wire bristle brush and use it to scuff up the leather a bit.
The Passing of Time
When you first start trapeze, you whiz through tricks. It's not uncommon to master a new trick every class or two, which definitely contributes to the trapeze addiction. Your progress won't always be so fast, though. Eventually, you'll find that one trick that is your own particular challenge (the pullover shoot, in my case, and I'm still bitter about the abrasions). Then, you graduate to working on the swing. After one try, you can tell it's hard, but what they don't tell you is that it can take months (at 1-2 classes per week) to get your takeoff and swing good enough to do it out of safety lines. I would've found it much less frustrating if I had a realistic idea of the normal timeframe. Read the rest of this entry »
By kate on January 20th, 2014
My friend of 20+ years, Kim-An Lieberman, recently passed away from cancer. Her husband asked Kim-An's friends to write letters to her children to share things they remember about her. After some reflection, I chose to share the story of our biggest fight to illustrate a life lesson I began learning from Kim-An and am still working to master.
---
Dear Cassia, Kellan, and Mireya,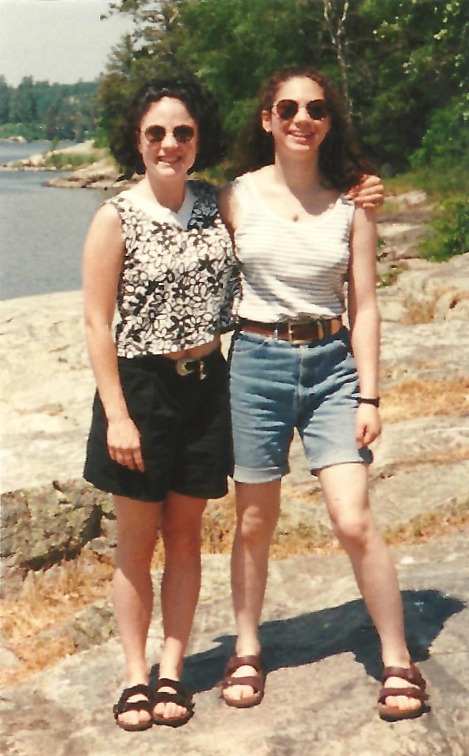 I knew your mother since 1993 when we were in college. While we were at the University of Washington, we taught a few classes together and were roommates for a while too. We did a lot of fun things together, but when I tried to think of a moment to share with you, I thought of our one big fight.
Neither Kim-An nor I were prone to arguing, and we were both pretty reserved. Even through our years living together, we didn't get really close or connect on an intimate level. We were friends with a lot in common, yet we let our shyness and reticence get in the way of a truly close friendship. I always wanted to be closer, but let my insecurity keep me from risking that step.
By kate on December 31st, 2012
2012 was a strange year. In the pedestrian scale of my own life, things went pretty well. My job, health, and relationships have all been good. But a lot of hardship and tragedy befell my friends, and at the end of the year that's what stays with me.
This year, four friends were killed in two sudden, shocking events. First Drew and Joe were lost in the Cafe Racer shootings. Only a few months later, Lee and Judy, off on a childfree anniversary adventure in Peru, died in a car accident. All four people were inspirational to me in some way already, but seeing the outpouring of tributes to each gave me an overwhelming sense of the impact one person can have on the people around them.
2012 was also the first year that cancer hit close to home, striking three friends in my own generation. I've been anxiously watching updates on email and Facebook, unable to do very much, hoping with all my heart that the limited scope of current human technology is enough. So far, the news has been cautiously good and my friends all continue to fight. They're never far from my thoughts – my most fervent best wishes to Molly, Chris, and a third friend who's not public with it all yet.
Is this just what it's like to get older? To have illness and death sidle closer and closer to you, capriciously choosing one friend after another until it's your turn? I knew that would eventually be the case, but it seems too soon. I'm not even 40 yet!
So, with the turn of the new year, I'm going to optimistically say that I hope 2012 was just a dark year, and that 2013 will mean good things for not just me, but everyone I care about. Happy New Year!
---
UPDATE 1/20/14:
One of my friends lost her battle with cancer in December, leaving three kids, a husband, and community of friends and colleagues bereft. On the good side, my other two friends mentioned above are in remission and recovering well.
By kate on January 18th, 2012
[I'm honored to be the one asked to write my company's blog post for today's SOPA/PIPA blackout. I'm re-printing it here.]
Why Can't I See Reviews on Urbanspoon?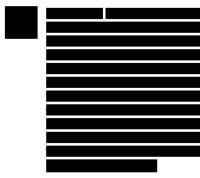 Today on Urbanspoon, you'll notice that some content in the United States has been blacked out. We're making this dramatic gesture to illustrate what might happen to the internet if a law currently proposed in Congress is passed. Along with Google, Wikipedia, Tumblr, Reddit, and thousands of other websites, we're participating in a coordinated blackout today to focus attention on this critical issue. Here's an explanation:
We believe that if SOPA/PIPA passes into law, it will be lethal to the internet as we know it. That may sound exaggerated, but we encourage you to read the information on these sites to learn more and see just how serious it is:
Most importantly, PLEASE contact your senator and representative today to express your opposition to SOPA/PIPA. Here's one site where you can email Congress.
In closing, enjoy the video The Day The LOLcats Died.
UPDATE: The Oatmeal contributes an excellent anti-SOPA piece.