By kate on December 22nd, 2005
I got a call this morning from Michelle, our midwife, to let me know my gestational diabetes test had come back negative (meaning I don't have it). Hooray!

One of my measurements was close to the threshold, however, so she recommended I go in for a session of nutritional counseling to be on the safe side. I figure that's good information/help to have, so Steve and I will probably do that, especially since it'll be covered by insurance.

Since I'm a data geek, I graphed my results in Excel: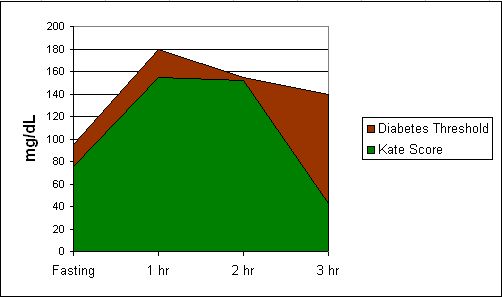 It looks like I'm a little slower than usual to process glucose, but in the third hour I finally get rid of it dramatically. It makes more sense when I think about what I DID in those hours. The first two hours were spent sitting around, and in the last hour Steve and I were on our feet most of the time. That reinforces to me that I need to make sure I get enough exercise!

FYI, those measurements are in milligrams of glucose per deciliter of blood plasma (or mg/dL). My score on the original glucose screen was 148 (the threshold is 139).