By kate on February 26th, 2015
It's fun to post about things I'm good at or know a lot about (like trapeze, where I'm working on the double – very exciting). I have a much, much harder time when people see me being bad at something. I get embarrassed, upset, and self conscious and just want to hide.
I'd like to be able to change this, especially now I can see that my daughter takes after me in this regard. I want her to learn as a kid that it's OK to be bad at something for a while, to stick with it anyway, and enjoy the fun of it. I was inspired by my friends Brian and Molly, who boldly started beginner piano lessons to demonstrate this to their kids.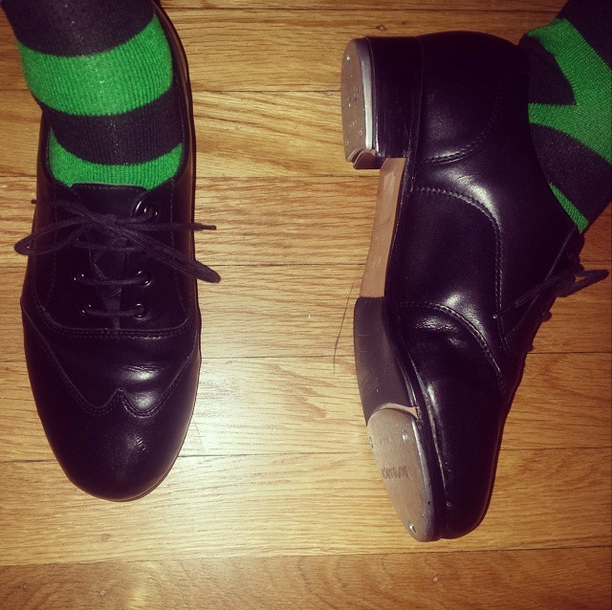 So, I signed up for a beginner tap dance class. I've always wanted to know how to tap dance, to be one of those people who can just whip out a little shuffle-step when needed. Finding perfect tap shoes at the thrift store followed by finding a class that actually fits my schedule prompted me to finally do it.
In a class of beginners, I'm the newest and the worst. The teacher is always giving me easier variations on the steps so I can keep up. And forget about operating my hands and feet at the same time – so far that's impossible. By the end of every class I'm thoroughly demoralized and feel like a failure.
… which is what I am trying to practice. So I remind myself that it's OK, it's part of the point to feel this stuff. Then I try to talk about it in front of Ruby as much as I can. Last week I practiced in front of her too, working on a step until I got it down. In June, I'm facing the horror of an actual dance recital where my class performs a tap dance number on a theater stage in front of a large number of people who are only there to see their child perform (in a different song in the same show).
This is the hardest role model work I've done so far.