By kate on June 10th, 2014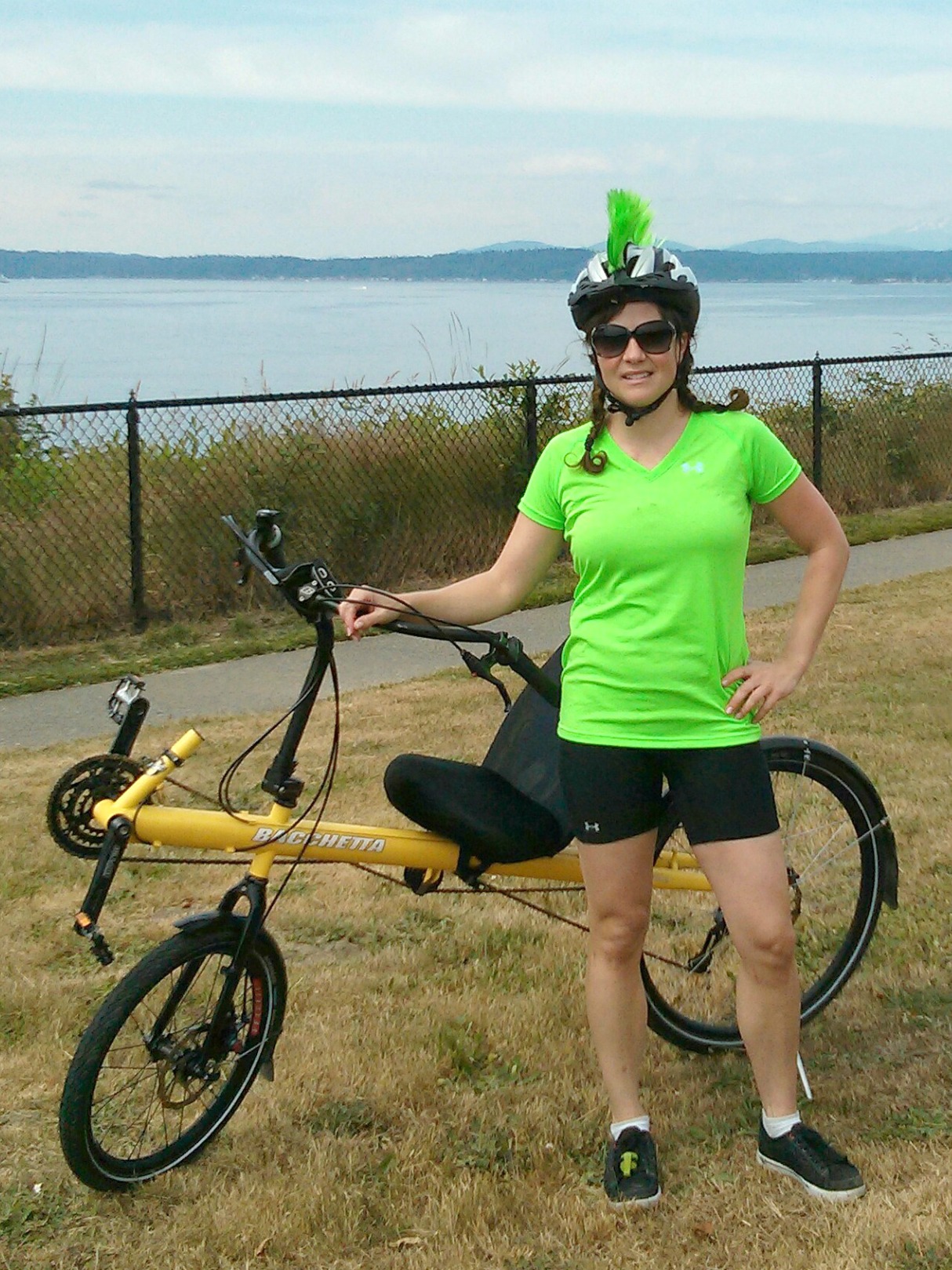 I've been a recumbent biker for a year and a half, and I'm hooked. The comfort of sitting on a "bent" bike is immediately obvious, but it took hundreds of miles of riding before the very different center of balance felt like second nature. Last year, I completed the 200-mile STP on my bike, nicknamed The Armchair, and proved to myself that I can ride up any hill that comes, albeit slowly.  At this point I wouldn't consider going back to upright.
One challenge as a recumbent rider, especially for women, is clothing. The padding on regular bike shorts is uncomfortable and unnecessary. Regular bike jerseys come with big pockets in the back. On a recumbent you don't even want thick seams on your back, let alone stuff in pockets, since your back presses against the seat back as you pedal. After some trial and error, I found great gear. Here are my recommendations.
CLOTHES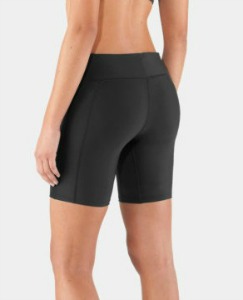 Under Armour Authentic 7″ Compression Shorts
No uncomfortable seams in the back, and it's a good length that doesn't ride up too far. They also have a comfortable, flattering waist that stays in place and doesn't roll down or dig in.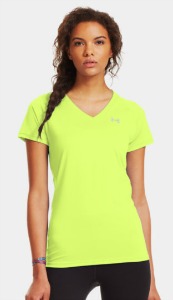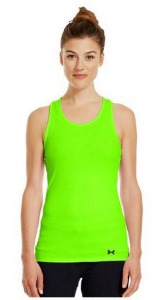 Under Armour Tech Short Sleeve V-Neck and Under Armour Victory Tank Top
Both of these are comfortable, breathable, and wick moisture well. I chose a very bright color (neon green) to help my visibility. The tank top makes better tan lines, and the t-shirt is good for when you've had too much sun.
Most sports bras clasp in the back, just where you don't want irritation. This one zips in the front and doesn't have any thick parts to bother you in the back. Note: you will be able to see a little bump in your shirt front where the zipper is (doesn't bother me).
I wanted to add some funky style to my look, so I added this velcro-attached mohawk to my helmet, in the same neon green. It also helps with visibility and gets lots of compliments.
RECUMBENT-SPECIFIC GEAR
Roswheel Front Tube Cell Phone Bag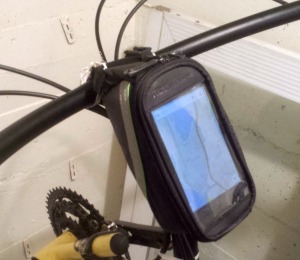 I was able to attach this to my handlebars as pictured, giving me a handy dashboard for my bike and the only storage I can access while riding or during a quick stop. It displays my phone (usually running Ride With GPS), and the space inside is perfect for snacks like granola bars, dried coconut, and Shot Bloks.
Outdoor Products Essential Waist Pack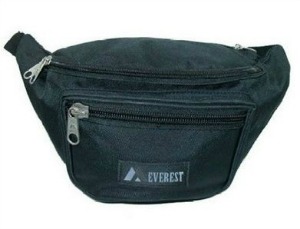 I strap this large fanny pack around my seat with the pack in the back. The strap is flat around the front so I don't feel it while riding. Inside, there's plenty of space for things like tools, keys, spare tire, wallet, tissues, ChapStick, etc. It's easy to unclip and take with me for security when I leave my bike (of course, I take my phone out of the handlebar cell phone holder and slip it inside here too).
Bike Peddler Take a Look Eyeglass Mirror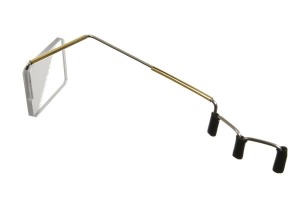 There's no good way to attach a mirror to a recumbent's handlebars, yet a mirror is especially important because it's harder to do a quick head-check behind yourself when you're seated on a recumbent. This perfect little mirror is the answer. It securely attaches to your sunglasses, adjusts easily, and stays where you put it.
Last but most important of all, my beloved bent bike. I chose this model after trying a wide range of recumbent styles at the excellent Angle Lake Cyclery, a local shop with a focus on recumbents. I added disc brakes and fenders for riding in the rain, and chose the Euromesh seat for comfort.